Saw Welders Machine Manufacturers, Suppliers And Exporter
Shivshakti Metal provide best quality Saw Welders Machine Manufacturers, Suppliers And Exporter at Ahmedabad, Bangalore, Chennai, Mumbai, Surat, Vadodara, Gujarat And all over India.
Top Features
500 amp output connections – provide enhanced arc characteristics for low amperage submerged arc and MIG welding procedures.
Single range control – for precise output control and easy operation.
Terminal strip and output studs – for remote connections and cable.




Top Features
Line voltage compensation for maintaining weld consistency, even with line voltage changes of ±10%.
Fan cooled with electronic and thermostatic protection from current overload and excessive temperatures.
Windings and rectifiers protected against moisture and corrosive environments.




Top Features
Streamlined operator panel minimizes setup time
Components designed to run cool for long life in high temperature environments
IP-23 rated for use in harsh environments




Top Features
Scott® connection taps standard for two AC welding heads operated in tandem.
Rheostat adjusts the output settings while welding or at idle.
Three output studs with overlapping ranges.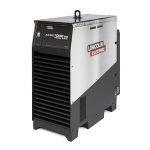 Top Features
380 – 575 VAC, 50/60Hz Voltage Input – Offers the ability to be connected anywhere in the world.
Easy to Parallel Machines or Run Multiple Arcs.
3-Phase Voltage Input – Eliminates the imbalance associated with transformer-based AC welding machines.